WHat about a cool drink? Or … frozen?
An extreme possibility to escape the summer torrid heat: an Ice-bar. Inside the temperature goes from the outside 30 degrees to -10 inside an Ice Bar and you can spend few minutes having a frozen drink (but also hot …) in a bar where everything is made of ice!!!
Stockholm, Sweden
Glasses, counter and also chairs and paintings, in a ice bar in Stockholm, Sweden, everything follows this theme. It is the first and the only permanent ice bar in the world that attracts thousands of curious tourists every year. Opened in 1994, it is located at number 4 in Vasaplan, where there is also the Nordic Sea Hotel. To enter it you need to cover yourself very well, wearing heavy jackets and gloves that can be supplied directly from the bar. The ice to built the bar comes directly from the Arctic Circle. You cannot stay longer than 40 minutes, given that the temperature inside is always -5° C. According to the experts, staying longer may cause affecctions to physique. Just enough time to drink a cocktail in a glass of ice.
In the world there are others of ice bars. From Rome to London, from Montreal to Barcelona, from Paris to Tokyo, there are about thirty.
A gorgeous experience to do. Let's do it and … break the ice! But what are the best Ice Bars in Europe where to live this absolutely unique experience?
Xtracold Ice bar, Amsterdam
Absolute Ice Bar, Milan
Ice bar Palermo
Ice Kube Bar, Paris, France
Icebarcelona
Icebarcelona, Barcelona, Spain: an all-ice bar … on the beach! Expect a crazy experience and amazing furnishings, with sculptures, castles and even a fireplace. Lights reflected on the ice create an intense atmosphere, truly spectacular. Many are the also events in this definitely unusual and particular location.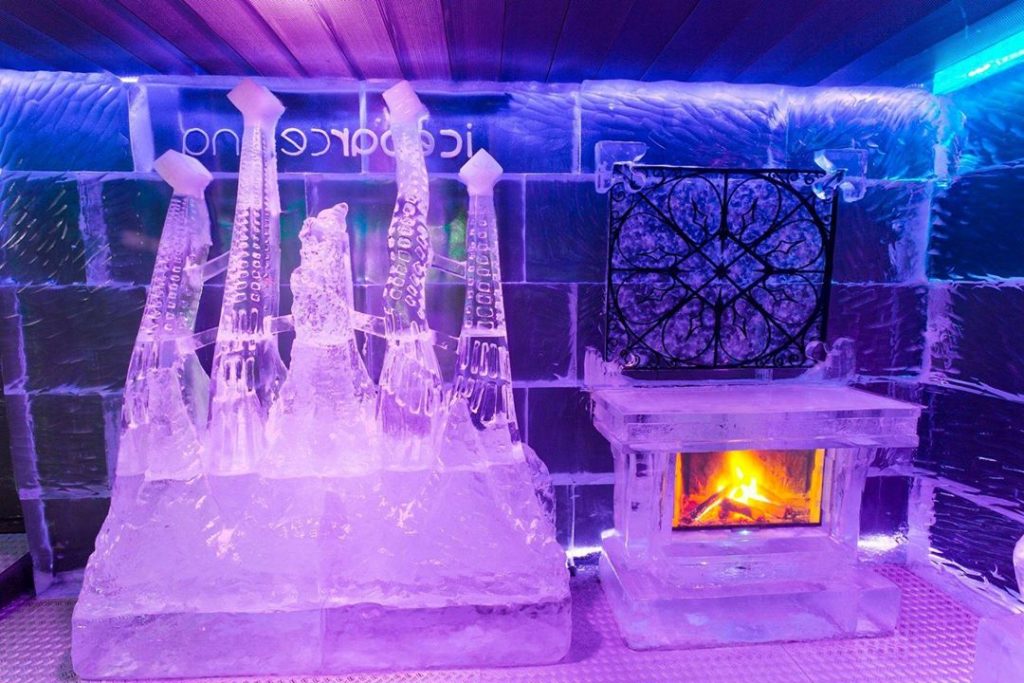 Ice Bar Madrid
Absolute Ice bar, Copenhagen
Have a nice and cold trip!