#KingArthur #SaintNicolas #Bari #Otranto #Apulianlegends
King Arthur really came in Apulia?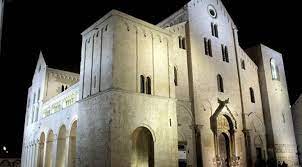 Some elements would suggest that the legendary son of King Uther Pendragon, passed through Puglia … In the archivolt, called the Lion's Gate, of the 12th century Basilica of Saint Nicolas in Bari you can see the sovereign with his knights of the Round Table.
The scene represented in the entire archivolt tells the story of a siege of a castle that has nothing to do with religious worship.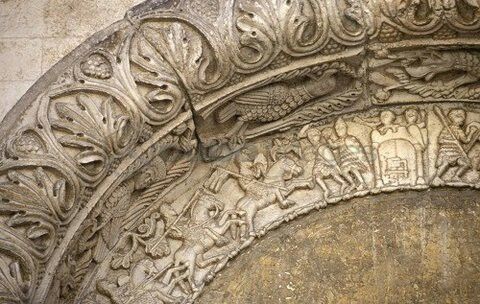 What is most disconcerting is that the first to spread the story of the Arthurian king was Chrétien de Troyes in the 12th century. But the legend arrived in Italy a century later while the Basilica was built in 1087 when some merchants brought the remains of the saint, 700 years earlier the Christian bishop of Myra.
How then is such an advance possible? There was already an oral tradition that Chretien limited himself to writing. But why in the archivolt of the basilica?
Traces of King Arthur are also found in Otranto, a port of great importance in the Middle Ages from where the fleets strated to reach the Holy Land. The city is also sadly famous for the massacre carried out by the Turks in 1480 who killed the bishop, the clergy and the people and beheaded the 800 survivors who have gone down in history as the Martyrs of Otranto. The ossuaries of the victims are kept in the chapel of the martyrs in the cathedral, on the central floor of which the tree of life is depicted.
King Arthur is also present in the mosaic. Made by Brother Pantaleone between 1163 and 1165, it places the king among the Old Testament's characters, with the scepter, the crown and pointed shoes. Why did Pantaleone insert the British king there? Perhaps because at that time the king even represented the search for the Grail. The myth of the Grail is frequent in Breton literature for it was considered one of the greatest ideals of chivalry, but why is it so present also in Apulia?
In the mosaic King Arthur fights with a cat. Following the legend to find the Grail you had to be pure and according to some authors of the Middle Ages, the king was not so he was attacked by the cat of Lausanne, one of the symbols of evil. But in the mosaic King Arthur is thrown and killed by the cat while above the king there is a naked character, symbol of pure man. It could be Gilead, son of Lancelot and Guinevere who according to tradition will conquer the Grail.
But there is another question: the date of construction of the mosaic ( between 1163 and 1165) makes it clear that the Breton history was already far-reaching at the end of the 12th century and reached remote lands from the places of origin. An incredibly short amount of time.
A question that we leave to historians.